The World is our Backyard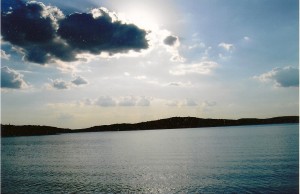 Chatting over the fence in our neighborhood isn't an option. If we want to talk with one of our neighbors in their backyards, it has to be done by water.
A couple of weeks ago, we did just that, pulling our fishing boat up to our neighbor's dock early on a Sunday morning. She was out enjoying the beauty of a calm, quiet morning (until we roared up!)
Our backyard neighbors here aren't sitting on top of each other here either. We've learned neighbors here could mean 2 miles up our dirt road onto the blacktop, or 6 miles away over by the fire department.
These particular neighbors are up the mountain a little, around the bend, and back down the other side of the mountain. Although facing a different cove, part of their backyard, as is ours, are the waterways of Bull Shoals Lake.
We caught up with her for a while and Dale said, "Let's go play in our backyard."
He wanted to come over and fish "our" cove, just yards below our house.
I'm pretty sure no one had invited me outside to play in my backyard in at least 35 years.
When we lived in the burbs, I usually didn't give much thought to the backyard unless Dale was grilling.
There really wasn't much to the piece of property; it was shaped odd – in a pie shape (it was the last house squeezed into the subdivision by the builder) with the deck covering part of it, a large tree and then a shed beyond. We never saw our back fence neighbors; we saw -and heard- our left side neighbors too much (anything from their kids screaming non-stop to their family feuds spilling over into the yard); and our right fence neighbors, at the end, well – let's just say they had a teenager who enjoyed partying while his parents were at work. Every time I went outside, I had a whiff of memories from attending rock concerts in the 70s-80s.
We did have it fenced to keep our dogs in, but we began to wonder if we really had the fence to keep the dogs in, or some of the strange people we lived near, out.
Since the dogs dug holes and wore paths around the parameter, the yard wasn't even easy on the eyes.
I did plant flowers in pots on the deck and our beloved Dacshund, Hershey, loved to play ball and would run to the back fence, chasing it for as long as our arms would allow. One year, our daughter, Steffi, went out and wrote in big letters in the snow: "Merry X-mas," so she could take pictures of it from her bedroom window; and there was that one summer I did watch a caterpillar morph into a beautiful butterfly.

However, I know Dale and I never said to each other, "Let's go play in our backyard." Instead of enjoying it, I think it was just easier to retreat to the climate controlled spaces in the house, leaving the outside world, well…outside.
We do have irritants of the natural kind like flies, mosquitoes, chiggers and ticks here, but they don't keep us from the playground of our backyard –on land or in the water – as much as the unnatural ones (noisy neighbors, boom boxes, loud motorcycles, etc.) did in the city. We also don't have fences here – to keep anything in, or out. Everyone, even the dogs, seems to appreciate property boundaries without them.
We'll definitely be playing on the land and lake of our backyard this last unofficial last weekend of summer, as well as enjoying a cook out and maybe swimming off of the dock with some of our neighbors who are about another mile down at the end of our road.
Playing isn't just for kids, why not say to your family, "Let's go and play in our backyard!"
Today's survey: When was the last time you played in your backyard? What do you plan on doing this weekend?
Tell us in the comments section.