The Front Porch has me Covered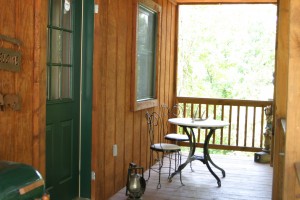 We all have our morning rituals, and our covered front porch allows me to engage in one of my favorites – sitting down with a cup of coffee, an actual newspaper, and my thoughts.
This is one of my favorite places that we built onto The Little House, as well as to the Belle Writer's Studio.
We weren't here when the foundation went in for The Little House and the first thing we learned about building a house from 300 miles away – don't try it. The front of The Little House is actually supposed to be facing the driveway, with the party deck facing the lake below.
Instead, the covered front porch is facing the woods and while it is supposed to be the front of the house, is the last thing anyone sees when they visit.
Having spent the first morning out on the covered front porch enjoying the view of the canopied yard was done was enough to bring me peace regarding its cock-eyed direction.
The roof of the front porch allows me to sit out on it in about any kind of weather. On warm summer mornings, I can turn on the overhead fan to create some breeze. On rainy days, I can sit and listen to the water hitting the roof. When I'm done with my paper (which doesn't take long in a small town), I sit with the remainder of my coffee and inhale the quiet, it's part of my morning exercise that gives me strength to get through the day.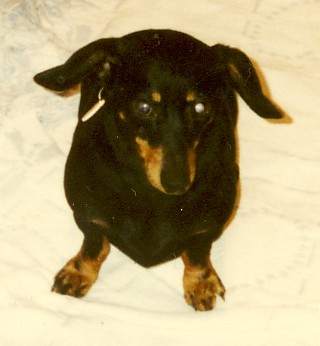 I'm not alone on the front porch; however. I sit too with some of the ghosts of my past. Some 25 feet away is the grave of our very spoiled and very much loved Dacshund, Hershey (pictured). I think of all the times we took her on our boat, she was know around Wyandotte County Lake (our local lake in Kansas City), as "the dog with the pink life jacket," or I remember with a smile that she could wear me and Dale down in lively games of ball that would last for literally hours.
Sometimes I think about the table where I am sitting, an antique ice cream set – one of my mother's most prized finds at one of the many auctions she and my dad attended on Sundays when I was a kid. That set has been everywhere from her back patio at The Bungalow where I grew up to the sun room of the Brick Tudor my parents bought when I was a teen, to the dining room in my first apartment, and finally back to the last place my mom called home, a duplex just a block from our house in Kansas City.
My mother, who knew nothing else besides being a wife and mother all of her adult life enjoyed fixing dinners for Dale and I in those last years, so as long as she was able, we bought her groceries and she prepared our food – providing her with purpose, and giving Dale and I nourishment while we concentrated on our careers. We sat together many evenings enjoying a meal and good conversation. If the weather was nice, Mom would always have her backdoor open, the sound of her wind chimes adding a sweet serenade to our meal.
When the breeze blows just right on the covered porch at The Little House, I can sometimes still hear her wind chimes playing their song, and in it, my mother's laughter.
On other days, I daydream that my father is walking down our driveway, carrying his railroad lantern that sits near me on the covered porch. Whistling off tune as he always did and singing to me, "Get up and get going, Suzy Q, the day won't wait for you."
On mornings when my writing is dominating my thoughts, I picture my brother, Steve, sitting across from me at that table, a smile on his face, a cup of coffee of his own in one hand and a cigarette burning in the other.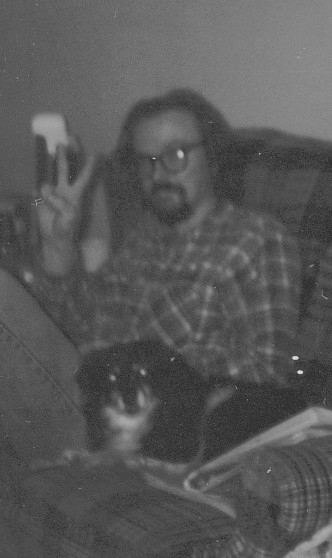 It was here, on the front porch one week in 2005, where I did the final reading and editing of "No Immediate Threat: The story of an American Veteran," the book I wrote about his struggles after Vietnam.
As I get up to gather my newspaper and coffee cup, I can almost hear Steve saying, "Take 'er easy," his trademark sendoff.
I smile and as the business of living life in the present moves into high gear, the ghosts of my past help balance the peace with another Manic Morning.
What place in you house is your favorite for your morning rituals? Tell us by clicking on "comments."