Scary Stuff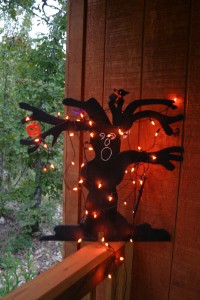 One fall, my mother allowed me to choose some wax Halloween figures at the Dime Store to help decorate our house. She spent a dime to .49 cents for the little wax witches, ghosts and pumpkins. That was in the 1960s.
I've read these days that collectors think they're worth much more, but to me, it's really all about the sentimental value of these little scary guys.
A couple of weekends ago, we spent one whole day going through the approximately 100 boxes of stuff in our metal storage building looking for those figures, as well as the rest of my holiday season décor.
Yes, it's true; nearly two years after our move, we still are dealing with stuff, and this is the stuff that has survived two purging episodes – one before, and one after the big move.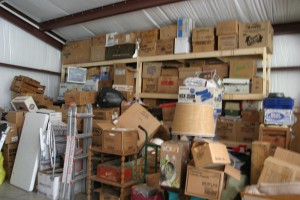 The stuff is out of sight, out of mind on a daily basis, but when we go into the dark corner of our metal storage building where those boxes are, we turn into different people. In our 30-year relationship, we've learned to work together as a team in most situations. Maybe more importantly, we don't take things too seriously. Most of the time, we can't even finish an argument without laughing at the absurdity of getting huffy over the little things in life.
When we embark on a quest to find something we're missing from our old lives, though, watch out. Our usually high energy levels drop, we get moody and snippy. Sometimes we yell. We sulk. We become, well, possessed.
On that warm August day several weeks ago, we climbed ladders, crawled on the floor and even fought creepy spiders of the live variety. He handed me boxes and I opened every single one – with the exception of the professionally packed boxes labeled "dishes" or "antique dishes."
I told my husband near the end of the search I was afraid the Halloween decorations might have mistakenly went out with the 50 or so boxes meant for the Salvation Army thrift store last year.
"Is that what this is all about….Halloween decorations? Good golly," he said in a huff.
The only thing I found was a Halloween tree my mother made me when she was crafting professionally (pictured on the front page), a St. Paddy's Day and Easter door decoration and a Thanksgiving turkey centerpiece basket packed in what else? A box with pots and pans. But that's how the move went 2 years ago. When you sell your house within 5 days of putting it on the market – and have to attend your daughter's wedding in Germany the day after new owners take possession of your house – things just get packed. It doesn't' matter where.
We don't have kids and we sure don't have trick or treaters, but we are hosting guests here at The Little House in October and I want it to feel homey. Decorating for the holidays is part of what makes a house a home to me.
At the end of the day, I became filled with anxiety that the décor was lost forever. But the more I thought about it, the more I realized what's even scarier is the person I become when thinking about The Stuff and how it can haunt me.
My conclusion: Four wax Halloween figurines and other holiday décor: Worth probably less than $50. My time spent looking for and worrying about them: Too much.
Finally realizing it's time for new décor to go with our new traditions anyway: Priceless.
___________________________________________________________________
Today's Poll: After a big move, how long has it taken you to unpack all of your boxes? Are there things you never found again?