On Fridays: Chaos, at the Beginning of the Day
Friday is cleaning day, every since I was a little kid when I would help my mother dust all of her knick-knacks. I think that's where I got this idea that there's one day for cleaning. I do the dishes and sometimes pick up during the week, but usually not. It wouldn't take as long to have my house "company ready" – especially in The Little House – but on weeks when I've been particularly busy, such as this one, it takes me longer to pick up the clutter that's accumulated than it does to actually clean.
When I worked in the corporate world and had to do all of the necessary cleaning on Saturdays, it took me almost an entire day to clean the beige split-level we owned in our hometown of Turner in Kansas City (pictured on the front page). When our girls were living with us, the rule of the house was that we didn't get to do anything else until the house was cleaned, with two of us working, it would maybe take us 2 – 3 hours. The clutter there most likely piled up on the stairs or on the kitchen table. If I didn't want to deal with it then, I put it in an extra drawer and left it for later.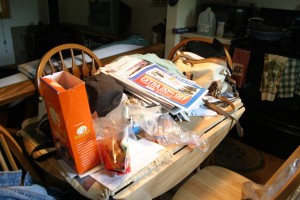 That's not an option in The Little House. Every space is at a premium and I have to deal with it immediately. If I were to pick up all of the clutter on a daily basis where it gets dropped in The Little House – on the kitchen table – it would probably only take me a little over an hour to clean the entire 480-square feet. Instead, I spend the first 45 minutes just going through mail, putting things back in their place and ripping labels off of newspapers for shredding.
I'm envious of people who have a house that's seemingly ready for company at anytime. The Fly Lady calls this CHAOS, or Can't Have Anyone Over Syndrome. I think her approach to cleaning is to do a little each day – I haven't studied it at length, I know she's helped a lot of people, but just looking at her website seems like chaos to me!
I have found other ways to try to keep the clutter from hitting The Little House in the first place. I try to keep catalogues and junk mail to a minimum by calling companies and asking to be removed from their mailing lists. There's also a great website, Catalogue Choice. After you sign up, you can ask them to notify companies for you and it keeps a record for you of the companies that's been notified. It's easy and it's free.
Still, The Little House is in CHAOS this morning – or at least the kitchen table is – and I'm going to have to deal with the clutter before starting the actual cleaning.
I'm just happy that The Little House isn't the beige split-level so it won't take me all day.
BTW, if you know anyone in Kansas City looking for a great smaller house (1,100 sq. ft) with 2-year old carpet/flooring, hot water tank, heating/air unit and a rebuilt fireplace, the beige split level in Kansas City, Kansas is for sale again (the buyers were transferred out of town)!
_________________________________________________
I'm told every house has them – the stairs, the kitchen table, the foyer. Where does your clutter pile up? Tell us in the comments section.