Live, From the Tiny House Blog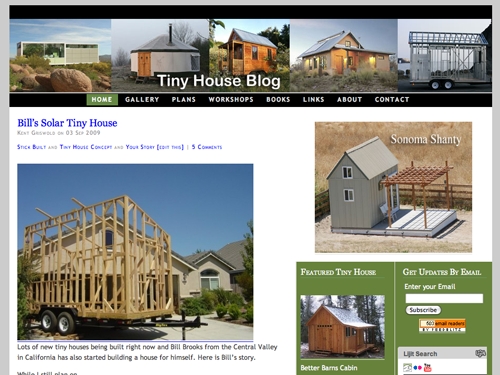 I'm excited today to have a guest blogger, Kent Griswold, who runs the website www.tinyhouseblog.com It's interesting to know how people became interested in small house living – and for Kent, this is now not only a passion, but also a business! If you're interested in different types of small houses, Kent's blog is great:
My name is Kent Griswold and I am the publisher of the Tiny House
Blog. Kerri asked me to tell you a bit about how I got involved in the
tiny house movement, so here I am!
In a way it started as a fluke because of a dream I've had for years
of owning a simple little cabin in the mountains by a lake. When I became
interested in the internet, I started bookmarking builders of small
cabins and tiny buildings. My favorite was the Montana Mobile Cabins
and they later became my first post.
A couple of years ago I discovered blogging and decided to put a
couple of my other internet projects into a blog format. I also
decided it might be a good way to use all these great bookmarks and
information I had on cabins and tiny houses. Along the way I had
discovered Jay Shafer of Tumbleweed Tiny Houses and through email got
to know Jay a little bit.
I realized there was some interest in tiny houses and chose for my
domain name tinyhouseblog.com. I initially only put a post up about
once a week until one day I discovered I had about 100 visitors. I
decided to get more serious and started posting more often.
About six months later I finally met Jay Shafer, who ended up moving
about 30 minutes away from me and we have ended up working together on
several projects and ideas since that time.
My blog is very visual and covers different types of construction,
people's stories, floating homes, unique homes and people building
homes. I have branched out into a couple smaller blogs like the Tiny
House Journal, tinyhousejournal.com that shows photos of people building
their tiny homes.This is to encourage the non-builder that they to can do this
also and shows them the steps involved via pictures.
My other project is the Sonoma Shanty sonomashanty.com, which is a small
basic structure that can be used many ways. You can get the plans for a very
cheap price and build it yourself. I have partnered with Stephen
Marshall of Little House on the Trailer, who will build you a kit to
assemble yourself or he will also sell you a completed home built to
your specifications.
I have learned along the way that most people interested in the tiny
house movement are dreamers who want to make this change in their
lives. There is also a growing number of doers who are making it
happen. In the last few months I have seen a half dozen do it
yourselfers building their homes, some with no experience at all.
With the economy like it is and life being uncertain many people are
wanting to simplify their lives and downsize, so I see this movement
as just getting started and it will most likely have a broader appeal
as time goes on.
The exciting thing is that through showing other peoples books, plans
and other resources, I have been able to build my blog into a small
business. With the help of advertisers like Google and others, I am
able to generate income. I have also joint ventured with others in the
tiny house business and now make my living blogging. When my job was
cut four months ago, instead of trying to find another job, I put that
effort into growing my blogging business. You just never know where life
will lead you.
TODAY'S POLL:
Have you ever turned a passion into a new living arrangement or a business? Do you think you could live in a tiny house?
Kent's Links:
http://www.tinyhouseblog.com
http://tinyhousejournal.com/
http://sonomashanty.com/
http://debtoutof.com/
—
. . . . . . . . . . . . . . . . . . . . . . . . . . . . . . . . . . . . .