I Haven't Seen any UFO's at the Little House, But…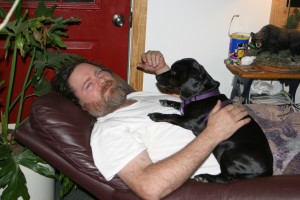 There's a phenomenon that plagues almost every couple I know. It's the strange mystery surrounding how men can be two feet away from their wives, kids and pets and not hear what's going on.
I love my husband. It's not possible to have been with someone for 30 years and to go through everything we've been through (we grew up together) and live in such a small space and not love him.
However, I don't think there will be enough time for us on this earth to figure out this particular puzzle.
Are these sounds like a dog whistle that can only be heard on a certain frequency? I would have thought that living in a small house would have solved this, it hasn't….
The other day, I left my husband in his chair watching television, with the two little dogs on the futon sofa – not three feet from him – to come over to get something out of the office. When I returned five minutes later, Dakota, our little Beagle/wiener mix (pictured with Dale) was sitting on the edge of the futon, looking very sad and guilty.
"Dale?" I said, pointing to the futon. Poor Dakota had lost her breakfast on the futon and it had sat there long enough to soak through the futon cover and extra padding I had down.
"Sorry. I was watching TV," he said, as I ripped off the coverings to place them in the washer and went for the fabric shampoo.
We aren't talking about a little accident here, this was huge – and I know was noisy in the making. Just the other day, I had to clean up a dog mess (Sorry folks, if you have dogs, like children, they get sick sometimes) by wiping up and then mopping the floor – all while I was on a business call – and my interview subject was none the wiser!
Then there was the day I told my husband, "I'm going to my office now to do bills, make sure you pick them up when you leave for town as they need to go out today." Again, we were in close proximity of each other, getting ready to walk out of The Little House. He answered with an "Ok." I was a little surprised as he drove right past the office without stopping, but I thought he was headed down to the neighbor's for something. An hour later, after calling his cell and hearing it ring a few feet from me, I got ready and took the bills to town myself. He finally called me later as I was loading groceries into the truck to see if I needed anything.
This is me with a big (??) above my head!
He blamed it on thinking about the hot water tank he was installing. Fair enough, but can men not multi-task and do something while listening at the same time?
Do men and women really come from two different planets? Do we each exist on our own plane even when we're in close quarters?
C'mon guys, this just isn't for the girls. Give us some feedback in the comments section.