Family Game Night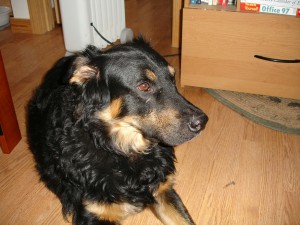 On a recent weekly grocery jaunt to Wal-Mart, we found ourselves looking at board games.
"We should try to find Twister," I told Dale.
"Just getting up from the chair is a game of Twister," he said.
You remember the game of Twister, where you spread a plastic sheet out with different colored dots? When you spin the dial, it tells you which body part should be placed on what color and if you touch your knees or elbows to the mat, or fall, you lose.
Well, every night is family game night at our house.
We may not have the colored dots on the floor, but with four dogs in less than 500 square feet, floor space is at a premium. Moving around without stubbing a toe, stepping on a tail or falling down is a challenge and every time we can do it without harming each other, a dog, or ourselves is a winning night.
Usually, when I get up from the sofa, I have to place my first steps over Emma, our German Shepherd/Rot mix, who is usually sprawled out on her back right below the sofa. I balanced myself by reaching for Dale's chair and then I step over Sade, our pit bull, to make my way into the kitchen.
Dogs aren't the only obstacles in our path though, something as insignificant as a small floor fan or even a misplaced pair of shoes can cause us to "lose the game." One night a couple of months ago, I got up in the middle of the night, put my foot between a metal stand and the fan and got the whole fan stuck on my foot. Dancing around, half asleep in the dark, I fell into the dresser, stepped on Emma's tail and finally made it to the light switch.
Emma was fine, but my leg had a bruise the length of my shin and I had a bruise across my chest from falling into the dresser.
I would say I pretty much lost that night.
When the dogs are done eating, we slide their bowls under furniture out of the way. More than once, I've tripped on a dog bowl while cooking.
More times than not, we do remember to put things back in their place and even in the dark, we know where things should be.
I told my husband that we should decorate the floor with dots and make it a real game. We could play for doing chores such as washing dishes, feeding the dogs or taking out the trash and the recycling. Although in our game, it would have to be the winner who would have to do the chores, as the loser is usually too banged up to move.
It just goes to show that in The Little House, every move we make is an adventure. At least, for the most part, we even enjoy that and can laugh about it – that is, unless we're holding our foot in pain.