Arachnophobia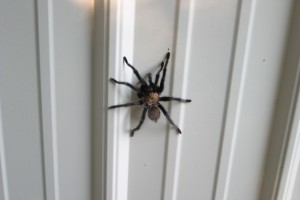 The first time we saw one, The Little House was barely framed in.
"What is that on the side of the foundation?" Dale said as we drove into the driveway to have a look at our new home.
"It looks like someone threw a big mud clot," I answered, but as we got out of the truck and walked closer, we realized it was the biggest spider either of us had ever seen.
I wasn't terrified, even then, but amazed at really, how beautiful tarantulas are. We had no idea this area had tarantulas, but have since marveled at seeing them in the road and sometimes stumbling upon the holes they dig in the ground for their nests.
Yes, it's big spider season here again, they're out and about gathering food for the winter. It just isn't the tarantulas on the move, but other insects of the 8-legged variety are more prominent outside too, building webs closer to the house and lights where they can catch as many unsuspecting moths and other food as possible.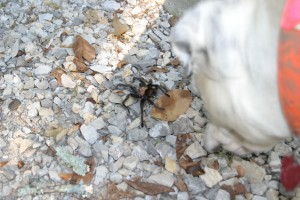 A neighbor of ours who doesn't yet live here full time called me the last time she was here, "The big spiders are back," she said. "There's a huge one out here on the deck, I think they're coming to get me."
I had just had a conversation the week before about leaving the outside critters alone with her grown daughter, who was staying there temporarily while looking for an apartment in town. She had bought all kinds of poison and wanted to spread it around outside. "It's outside, just leave it alone and it will leave you alone," I advised. "They're there to help with the flies, mosquitoes and ticks."
It kind of amazes me that people move into nature and then are shocked to find it here. The eco-system has worked for millions of years when we humans don't interfere, and if we allow, it could even work in our favor. I'm reminded of the time another neighbor knocked on our door to tell us, "Hey, I just wanted to let you know I shot a great big black snake right in front of your driveway."
I think he was expecting us to thank him. Instead, I said, "Well, thanks, we'll now probably have problems with wood rats." We had never had problems with wood rats before, but the following week, we had one get under the hood of the truck and eat the wiring.
The black snake wasn't harmful to anyone, but was probably protecting our property from unwanted rodents. We don't even bother snakes here unless they're poisonous and a threat to us or the dogs, and we do have copper heads, water moccasins and rattlers here that we have had to kill.
Some snakes, such as the black snake and coach whip that would stretch out and sun itself on one of our downed trees near the house last year, will even eat the poisonous ones and keep them away.
The first summer I lived full-time in The Little House I did see a big brown wolf spider in the bedroom. It's my policy to try and capture anything (except those big brown woods roaches that fly, or flies) and get them out. Only this wolf spider jumped at me when I tried to trap him in the jar, so unfortunately, he had to be eliminated.
However, when they're outside, we do just leave them alone, tarantulas aren't poisonous here and have no desire to have a run in with a human either. Spiders are amazing to watch though, we spent about a ½ hour the other night watching a big brown spider go after something he had trapped in his web on our deck and we've been known to stop the truck in the middle of the road (no traffic here) so we could get out and watch a tarantula cross (and take photos).
The desire to either capture or kill tarantulas around here is so strong for some people though, our local paper, The Baxter Bulletin has even ran articles to encourage people to just leave them alone because they are so important to the eco-system.
When I regale my friends and family with stories such as seeing a tarantula on our walk, they'll sometimes say, "I don't know how you do it."
Well, you can't be a wimp and live in the country, that's for sure and I feel I've been blessed to be able to live on our land in The Little House, and I'm grateful the wildlife have been good enough to share with me.
Do you have a fear of anything in the wild?