A Taste of Home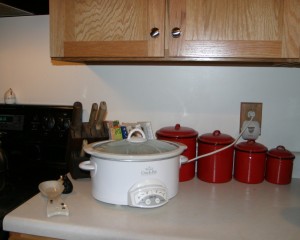 Sometimes I just have to have a little of mom's home cooking although it isn't possible to have some of my mother's dishes made by her hands. I do have some of the recipes that will always be reminiscent of home.
I'm a typical American Heinz 57, 1/8 to ¼ cup of Native American, at least ¼ German with a dash of Irish, Scottish and Patriot (one side traces back to "Mad" Anthony Wayne from the Revolutionary War) thrown in.
When people hear my last name, most people identify me with being at least part Native American, but it is my mother's German blood that I identify most with culturally. It was at least my great-great grandparents who immigrated to the U.S., but when my mother was born, her paternal family still closely identified with their German roots. My grandfather was a very early union organizer for meat packers in the Back of the Yards area of Chicago's South side and my mother attended St. Martini's Lutheran Church and School in the South side's German community.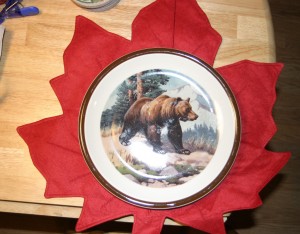 She heard German at her grandparent's home and she studied the language, among other things, at St. Martini's until the second grade. That's when her father died within 6 weeks of being diagnosed with cancer at age 28.
It was the height of the Depression and my grandmother took Mom to live with her extended family on a farm in Harrisonville, Mo., where she was almost completely cut off from her paternal extended family. She did retain enough of her German heritage that our family still celebrated Christmas on December 24th , and we were christened in the Lutheran Church. Perhaps best of all, Mom had a couple of recipes from her early childhood.
One of the best things about fall and winter is the comfort food and last week, I dug out my crock-pot. I decided my first dish of the season would be sauerkraut and ribs, one of those recipes my mother retained in honor of her German heritage. Mom made it in a pot, leaving it simmer on the stove for hours. There was no mistaking the smell of the kraut when I came home from school. I knew what we were having as soon as I hit the front door!
I found the recipe as a crock pot dish in my favorite cookbook, "Fix-it and Forget-it Cookbook: Feasting with your Slow Cooker."
Yesterday, I walked home from the Belle Writer's Studio and could smell the odor long before I hit the deck leading to The Little House. I felt like a schoolgirl again, coming home ready to tell my mom about my day. She may be gone, but I have the memories, the great bear plates she bought me for Christmas the year we built The Little House and the kraut and ribs to feast upon.
Truly a taste of heritage and home.
Recipe for Sauerkraut and Ribs
Take about 5-6 boneless pork ribs and sear them in a skillet. We use plenty of ground pepper (decidedly not German – Germans consider pepper an insult, a sign you don't like the food!) While you're searing the ribs, peel and dice about 7-8 small-medium potatoes. Empty a bag or jar of refrigerated kraut into a colander and drain. We wash the kraut off with water so it has a milder flavor. Put the kraut in a crock-pot, place the potatoes on the kraut and add the meat to the top. Put in about ¼-1/2 cup of water just enough to cover the bottom. Cook on low for 8 hours or high for about 4 hours. Serve with butter on the potatoes.