Like Groundwells, Hope Springs Eternal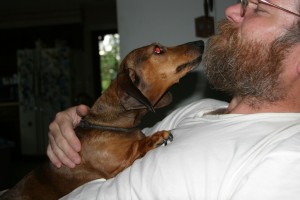 Financially, this year feels like it did when we had the water well dug. For what seemed like forever, there were no crystal clear waters; just mud bubbling everywhere. The harder they tried to find water and the further they dug, the browner the guck that spewed. For days, the brightest color flowing was the green leaving our hands.
In these times, especially, I just thank goodness I have the quiet, peaceful repose of the Little House to settle into at night. Our story for the past year is really no different from millions of Americans, and a lot better than many.Although we did the math before making our move, some things just cannot be predicted: An unprecedented cost of living increase; a layoff from a fairly good paying job in one of the hardest hit industries; loss of health insurance; and yes, water wells much deeper than expected.
Although my husband did find two jobs, he still isn't making what he was at one job just a year ago. In my business, the publishing world, some think they've been given a license to not pay, cancel contracts, or pay slow just because there's fewer assignments with a glut of hungry writers less likely to speak their minds when we're not treated fairly or paid on time.
At times, it's been about enough to drive us…well, me…mad.
I admit, I've had my moments of fits; and times when I wondered the point of it all.
While my moments are just that…moments, Dale's not even suffered those. The guy who, over a decade ago, freaked out when I told him I was leaving the cushy, stable corporate world to join the ranks of the self-employed, is now as easy going as they come.
"It'll work out, it always does," he told me during my most recent moment of hitting mud.
A lot of it is owed to good, loving friends who talk me down, barter with us when we need something, or who might just send a card, or have us over for dinner and some board games when we need some fun.
But we also cannot discount the fact that our Little House and surroundings are peaceful, and I'm appreciative that for the large part, we've been able to internalize that.
At the end of a long day that stretches into night, the first thing Dale sees at the bottom of our winding driveway is the little lamp lighting his way into the Little House. I soon follow, walking from The Belle Writer's Studio, our two big dogs, Emma and Sade, at my side.
When we finally settle into our cozy, quiet Little House, we fall asleep to the song of the cicadas, the whooping of the whippoorwill that sits on our roof and the yipping of the coyotes. If we're really lucky, our resident owl is hooting to his mate, who also engages in the conversation.
Nights in the Little House sucks the chaos of the real world away, allowing me the hope that like with the well, clear waters will start flowing just before it drains us dry; and once well waters start to run clear, they usually do so for a lifetime.
That's enough to give hope to all of us.
Today's Poll: What helps you get through today's economic climate? Click on comments and tell us!