When we moved to Our Little House in 2007, we arrived with 4 dogs and 2 elderly cats. Living in a small space with pets is not easy, just like with every­thing else in a tiny house, it takes a lot of planning.
After watch­ing the third episode of Tiny House Nation on the FYI chan­nel on Wednesday night, let's just say I was more than disappointed.
As the host was look­ing at the pile of clothes on the bed to be donated, he said, "As I look at this pile to donate, I can't help but notice there is a cat sit­ting in the mid­dle of it. Have you decided what you're going to do with them? Because that is a big concern."
The cou­ple, who was down­siz­ing to save money so they could travel the world, had one dog and two cats. The 8-year-old cats didn't get along with the dog and they had them sep­a­rated in their large house by keep­ing them on sep­a­rate floors.
I was dis­ap­pointed in the show, but not sur­prised. After the host asked the fam­ily last week if their dog could "become an out­side dog" I knew it wouldn't be long before some­one on the show gave up their pets to live their tiny house dream.
(The fam­ily in that episode said that their dogs could not stay out­side due to the rural loca­tion and they were afraid for their safety. This is just one rea­son a pet con­di­tioned to liv­ing inside should not sud­denly be exiled to being an "out­side" pet).
The BIG thing I have a prob­lem with in this last episode was that the cats were being pre­sented as things that needed to be dealt with like the clothes and the guy's home brew oper­a­tion that he had to give to a friend.
As a mat­ter of fact, the show's host even called both the home brew oper­a­tion and the cats a "sac­ri­fice" that was going to have to be made.
PETS ARE NOT DISPOSALBE inan­i­mate objects. They are liv­ing, breath­ing beings.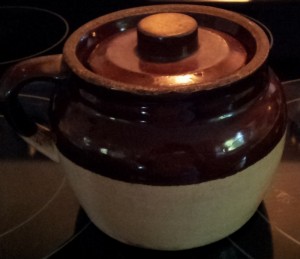 We have been enjoy­ing the bounty of sum­mer with cucum­bers, organic sweet corn, toma­toes, green beans and new pota­toes com­ing on almost faster than we can eat them.
One sum­mer treat my hus­band loves is baked beans.
When we moved to Our Little House, I knew we would be grilling and doing some enter­tain­ing in the sum­mer months and our sum­mer din­ners on The Party Deck aren't com­plete with­out baked beans.
To me, baked beans would not be the same if they weren't cooked in my mom's bean pot.
When down­siz­ing to a small space, if you have things that are sen­ti­men­tal, they must also be func­tional as well (like my antique bed­side lamp).
It has been unusu­ally cool at Our Little House this week, but we've been enjoy­ing the fall-like tem­per­a­tures, which have allowed us to open the win­dows and be out­side more.
I'm still strug­gling with con­tainer gar­den­ing. I expanded it a lot last year with no more suc­cess than I had with just a few pots. This year, I only have one larger tomato and one cherry tomato plant.
I also grew cilantro earlier.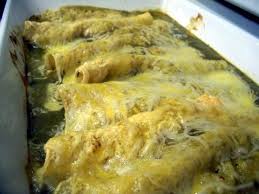 I typ­i­cally don't cook a lot of heavy foods in the sum­mer, but my sis­ter in law brought us some of our favorite corn tor­tillas made locally in Kansas City when she vis­ited last week­end and Dale is get­ting tired of vari­a­tions on sal­ads, so I decided to try some veg­etable enchiladas.
When we were in Kansas City for our last visit, we made a cou­ple of stops at one of our favorite Mexican restau­rants, Panzones, and I was delighted they had added a whole sec­tion on their menu for vegetarians.
I had the veg­etable flau­tas, which were yummy. I yearned for that same taste and it got close when a new Mexican restau­rant opened here. They didn't have veg­etable flau­tas, but their veg­gie enchi­ladas are almost the same (and maybe even health­ier since they are not fried).
Mexican food is an area where I say I'm 90% vegan. It's of course, all about the cheese. When I eat out, I can­not con­trol what they put on it, which is a great thing about eat­ing at home. I do eat dairy cheese on the Mexican food I cook (the "fake" stuff is really bad), but not nearly as much as I used to.