When I began writ­ing about the Tiny House Movement for my upcom­ing book, my edi­tor took excep­tion with the word "movement."
She thought it sounded like it had some sort of polit­i­cal con­no­ta­tion. The tech­ni­cal def­i­n­i­tion of a move­ment is, "a group of peo­ple work­ing together to advance their shared polit­i­cal, social, or artis­tic ideas."
I under­stood her con­cerns, but it is a type of social move­ment to what we think is a bet­ter way of life.
I responded to her con­cerns by telling her it had been labeled a "move­ment" by the media for so long, that if we didn't refer it to that in the book, it might con­fuse peo­ple that this is some­thing else other than what arti­cles, books and tele­vi­sion shows such as "Tiny House Nation" were talk­ing about.
However, last week, on the Living Large Facebook page, Matt also took excep­tion to the term move­ment, say­ing that after he's fol­lowed it for 5 years, he feels "the term is now out­dated and makes it sound hairy fairy and not a credit to mak­ing a change to the way we choose to live…"
What do you think, Living Largers? Is it a move­ment? If not, or you think the term is overused/outdated, what would you call it? Click on "the com­ment link above the photo (below the headline) to join in on the conversation!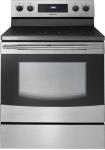 The past few morn­ings have been chilly, not cold enough to war­rant our wood stove and def­i­nitely not cold enough to war­rant turn­ing on our expen­sive elec­tric heater.
My mom came from a gen­er­a­tion where the focal point of the home was the kitchen. If she wasn't watch­ing tele­vi­sion (which she rarely did) or not cre­at­ing a piece of art or work­ing in her gar­dens, she was sit­ting in the kitchen, usu­ally with a cig­a­rette and a cup of coffee.
On morn­ings such as the one we've been hav­ing, she would say, "I'm turn­ing on the oven for a bit, just to take the chill off."
In a small home where the kitchen is often­times part of the liv­ing area, a few min­utes with an open oven door on a chilly morn­ing is all I need.
I turned on the oven yes­ter­day morn­ing just to take the chill off and though I don't smoke, I sat and enjoyed my cof­fee, silently thank­ing my mom for the warmth on a chilly morning.
Patti, I drew your name for the How to Make Money Homesteading book. Please con­tact me at five­coat (at) ozark​moun​tains​.com to claim your prize!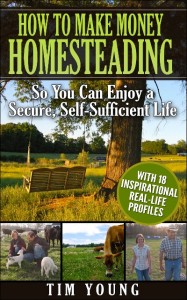 Since many peo­ple are look­ing at New Year's goals, I try to rec­om­mend a few books this time of year that could help Living Largers achieve their dreams. Many peo­ple have asked for ideas on how to make a liv­ing from home while liv­ing a sim­ple, rural life.
Tim Young put together some of those ideas in his e-book, "How to Make Money Homesteading."
Tim is also giv­ing one Living Larger a chance to win a down­load of the book for free. Read the short Q&A, make a com­ment on this post on why you would like to read the boo and like Living Large on Facebook (if you haven't already). Comments to this post must be made before 5 p.m. CST on Thursday, December 11. I will draw a win­ner and announce it on the blog on Friday. You must leave an email address where we can reach you if you win.
Living Large: How did you come up with the idea for the book, what  is the pur­pose?:
Tim: Like a grow­ing num­ber of peo­ple in the past decade, we are first-time farmers/homesteaders who moved from urban life to rural life. There's a ton to learn when you make that kind of tran­si­tion, much of it related to how to grow food, tend to live­stock and develop skills that enable you to pro­duce what you need rather than con­sum­ing and buy­ing, as most peo­ple do. However, there's another very real need that most new home­stead­ers real­ize when they take the leap, and that need isn't writ­ten about as much. It's the need to make money so that you can enjoy the free­dom of liv­ing inde­pen­dently off the land. In the decade we've been home­steading and farm­ing sus­tain­ably, we've explored numer­ous income pro­duc­ing areas that range from offer­ing meats and dairy to classes and events and, of course, writ­ing and online ven­tures. With How to Make Money Homesteading, I wanted to share some of our expe­ri­ences, but really wanted the con­tent to be broader than our own per­sonal story. So I researched and sought out 18 other homesteaders/preppers/small-scale farm­ers, such as your­self, and shared their sto­ries as well. Taking the leap from a world of sub­ur­ban con­ve­nience and com­fort is daunt­ing for most peo­ple, so I wanted read­ers to see how many oth­ers have done that…and lived to tell about it. The pri­mary aim of the book was to offer ideas of how income can be pro­duced, rather than to show in step-by-step detail how to make money in any par­tic­u­lar endeavor. In the end, each per­son has to con­sider their own mar­kets, expe­ri­ences, resources and desires to choose the best path for them. It is my hope that this book can give them the inspi­ra­tion and ideas they need to get started.
Living Large: What is one of the most inter­est­ing sto­ries of how a per­son is mak­ing a  liv­ing home­steading?:
Tim: I was sur­prised to see how many peo­ple, includ­ing your­self, are sup­port­ing their home­steading life through what many would refer to as "non-traditional" home­steading activ­i­ties. These include free­lance writ­ing, con­sult­ing, blog­ging, e-commerce sites and DIY man­u­als, sell­ing essen­tial oils and so on. Sure, there are many exam­ples in the book of folks sell­ing wood crafts, cheese, soaps and more "nor­mal" home­stead prod­ucts, but tech­nol­ogy has bridged the gap between many people's life expe­ri­ences and dis­tant mar­kets, enabling them to take the leap with increased confidence.