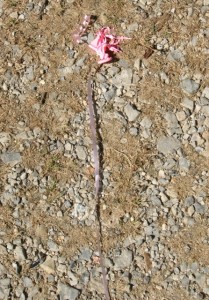 Dear Litterbugs,
Do you really believe that toss­ing your trash out of your car win­dow into the brush of our coun­try road hides it?
It might be out of sight and out of mind for you, but it isn't for us.
Sometimes it isn't hard to find at all, like the bal­loons you release in town that land in the mid­dle of the road. Unless, of course, a bird or other wildlife finds it first and either chokes because it tried to eat it or gets itself tan­gled in the col­or­ful strings. Believe me when I say when you release these in memo­riam of some­one, they don't end up in heaven, but they do help spoil par­adise when they return to earth.
Did you know helium bal­loons can even cause house fires? There was one in Lodi, Calif. not too long ago.
And what about you, the incon­sid­er­ate smoker who tosses out butts onto the ground: Have you never seen the heart­break­ing pho­tos of wild­fires? We would just as soon not lose Our Little House, our lives or that of our ani­mals because of your negligence.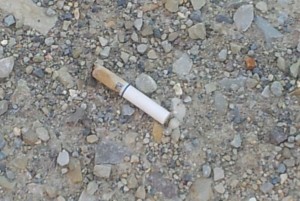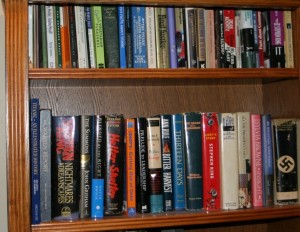 I'm cel­e­brat­ing the 5 year anniver­sary of the Living Large blog with an announcement!
The book based on our expe­ri­ences down­siz­ing to a small house, along with tips from me and other Living Largers is one step closer to reality.
My agent and I have agreed on a work­ing title, Living Large in our Little House: Thriving in 480-Square Feet with Six Dogs, a Husband and One Remote and How you Can, too.
The book will tell the story of how we came to live in Our Little House, but will also have never-before pub­lished sto­ries about our down­siz­ing, as well as sto­ries of oth­ers who have done the same.
It will be about Living Large by actual Living Largers!
The book will also give tips on how to com­plete your own Living Large dream!
How many of you would like to read this book and what tips would you like to see in it?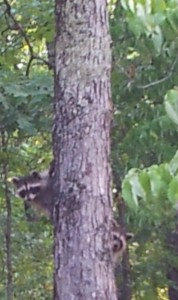 With cam­eras on most of our cell phones, it isn't very often that many of us don't have one available.
But why is it when I don't have a cam­era with me that a great photo oppor­tu­nity always comes up?
I had just placed a fresh bot­tle of home­made hum­ming­bird food out the other morn­ing and was stand­ing on the deck wait­ing for Dakota to do her busi­ness when one of the lit­tle bug­gers hov­ered and then landed on the feeder for at least two min­utes, not more than 3 feet away. Of course, I didn't even have my cell phone with me. Darn!
Photographing wildlife, lizards and cool insects is just one of the many rewards I've found of liv­ing in the country.
A cou­ple of weeks ago, I was star­tled by a really high pitched screech­ing sound. It was night and again, I was out with Dakota. We both scur­ried back in pretty fast and the next morn­ing, I asked my friends on social media what it could be.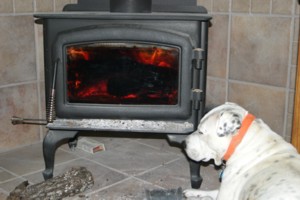 We're hav­ing our hottest weather of the sum­mer right now, so it is very coun­ter­in­tu­itive of me to write about wood stoves.
But the real­ity is that it will not stay hot or even warm for very much longer and we're start­ing to think about where we will source our wood and also get­ting the stove pipe cleaned out for the upcom­ing season.
Heating with a wood stove is a lot more work than turn­ing on the ther­mo­stat, but it pro­vides that deep warmth only a fire can pro­vide and also saves us money on our elec­tric bill dur­ing the win­ter months.
I was read­ing the Little Yellow Door blog and Ella's post about her tiny wood stove. Her Kimberly wood stove is beau­ti­ful and quite per­fect for a tiny house, but as she points out, it is quite expensive.
I have to put a word in for Regency. We pur­chased ours F1100 in 2003 and it is very small.