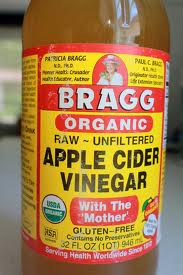 If you've read Living Large for a while, you know that I'm all about nat­ural solu­tions if at all possible.
Last year, I was diag­nosed with high blood pres­sure and I was put on a beta blocker to help. I'm grate­ful for mod­ern med­i­cine, my father died of a sud­den heart attack at 58 and I sure do not want to fol­low in his footsteps.
However, with every med­ica­tion there is to help our symp­toms, the med­i­cine some­times cre­ates more unwanted side effects.
For me, it was a lack of energy, diges­tion prob­lems and the inabil­ity to lose weight, although I have been on a very healthy vegan diet for over a year.
Enter apple cider vinegar.
I wrote "Life is a Journey" before my break in January not know­ing we too, were uncon­sciously enter­ing a psy­cho­log­i­cal change in our own lives.
As I've writ­ten more than once, this win­ter was a lit­tle bru­tal on us here at Our Little House, not just with the cold, ice and snow or the mul­ti­ple sprangs of wrists and ankles or bruised elbows and tail­bones from falling in said con­di­tions (because dogs still have to do their busi­ness and work has to be done no mat­ter the weather).
Last year, we missed a lot of hap­pen­ings with our loved ones back in our home­town. We try to make it back for as many land­mark birth­days, anniver­saries, show­ers and wed­dings as pos­si­ble, but some­times we can't make them all.
Add in a good friend who had a heart attack last year, another who had to get a pace maker, the loss of Dale's mother (while we made sev­eral trips to KC to be with her in her last weeks, we were not there when she actu­ally passed, some­thing I think my hus­band regrets), the death of a for­mer neigh­bor, my god­fa­ther, a cou­ple of for­mer class­mates and the arrival of the decade of my 50s and we have the mak­ing of a mid-life crisis.
Thanks to all of you who have been patiently wait­ing and watch­ing for more posts here at Living Large.
I didn't intend on tak­ing such a long break, but my favorite say­ing since mov­ing to Our Little House has been, "Life is some­thing that hap­pens while you're busy mak­ing other plans."
It was a long, cold win­ter here, as it was in much of the coun­try. It was the rough­est win­ter we've had since we moved here.
I'll be post­ing more about that on Friday.
In the mean­time, I've watched with inter­est (and some­times shock) to the reac­tions to the story of Charlotte and Eric Kaufman, the sail­ing fam­ily that last week had to be res­cued from their founder­ing sail­boat, the Rebel Heart.
(If you haven't heard the story, catch up here)
The winds have lit­er­ally been whip­ping over the plains and down to our Ozark Mountains in the past week, so I guess it's appro­pri­ate that the fig­u­ra­tive winds of change are also blow­ing on our mountain.
Expected changes are afoot, such as the light lin­ger­ing longer before falling to shad­ows in the evening, but there are also some other changes in our lit­tle cor­ner of the world.
Our neigh­bors put their house on the mar­ket a cou­ple of months ago. When they told us before­hand, it was a quite unex­pected move since they had been work­ing on their Dream House for the past decade and expected to retire there.
They had looked for land for some time, as many do, after vaca­tion­ing here and began build­ing their home about ¾ of a mile down the road shortly after we fin­ished con­struc­tion on Our Little House.
Since we were all "week­enders" we had lit­tle inter­ac­tion with them until we moved here nearly seven years ago.
The biggest thing we had in com­mon was our home­town, we all moved here from Kansas City. It was good for us to have some­one near us who under­stood the cul­ture we had lived in all of our lives.
After we moved here, we enjoyed din­ners at each other's homes, includ­ing many hol­i­days. I went down to let their dogs run when they wanted to take day trips, Rae taught me to can and we shopped in town together, par­tic­u­larly when my Baby Blazer was parked after my crash.