Well, for the most part.
Our beloved Kansas City Royals lost the World Series on Wednesday night. After a 29 year wait to see them in another Series, it came down to a very heart­break­ing Game 7, bot­tom of the 9th, two out, man-stranded-on-3rd base-90 feet-away-from– the– tying-run-loss. I'm not a sports nut (and Dale doesn't like sports at all, but even he didn't resist the home­town enthu­si­asm for the Royals), my his­tory with base­ball goes back to my grand­par­ents who were die-hard Cubby fans in Chicago (this should tell you some­thing about how resilient my fam­ily is when it comes to losing).
My mom was even at a Kansas City A's game (before the A's were moved to Oakland) on open­ing day when she real­ized she was preg­nant with me. I have a lot of great mem­o­ries of Royals base­ball with my fam­ily at Kauffman Stadium. This team reignited my love for it. A lot of good things hap­pened in the city because of this team and for that, we are grateful.
On a bet­ter note, Living Large the book is a few more steps closer to real­ity. I hope to have an announce­ment about that very soon.
Finally, the week is end­ing with Halloween, which means two things at Our Little House. It is our tra­di­tional first pot of chili night, which goes back to when my mom would warm our bel­lies before we headed out trick or treating.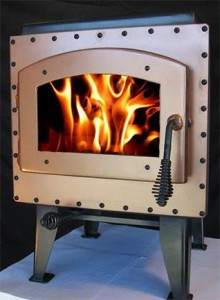 We had a lovely Indian Summer week­end and it was made even more spe­cial because my good friend, a woman I call my soul sis­ter, came and vis­ited. Kathy and her hus­band came down Memorial Day week­end to help us kick off our sum­mer of fun and it was great to have her back for prob­a­bly one of the last truly warm week­ends of the year.
It's the end of October and soon we will be fir­ing up our woodstove.
A com­pany called Gray Stove was recently brought to my atten­tion. They are a vet­eran owned com­pany and make stoves cus­tom to order, which includes lit­tle stoves for tiny homes.
When we built Our Little House, this stove wasn't around, but if it had been, I would have def­i­nitely checked it out.
We try, when we can, to sup­port American made and that this com­pany is owned by tal­ented vet­er­ans who have found a niche for their craft is great.
Check out their story here and if you're in the mar­ket for a wood­stove for a new tiny or a home you already own, check out their web­site.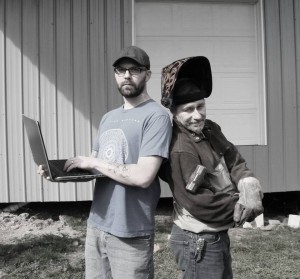 I know that some of our Living Large's com­mu­nity also reads Tammy Strobel's blog over at Rowdy Kittens. I've been fol­low­ing her and Logan's adven­tures for years, before they even moved into their tiny on wheels three years ago.
Tammy shared some news on her blog this past week that they rented a small, 700-square foot bun­ga­low in town rather than live in their tiny home for the winter.
As I have for sev­eral years, I admire Tammy's hon­esty on her blog. I think some­times that tiny house liv­ing looks "picture-perfect, roman­tic and glam­orous," as she says, but as she points out, liv­ing a "sim­pler" lifestyle in a tiny isn't always that way. It has its good points and down­sides, just like liv­ing anywhere.
Like Dale and I, it sounds as though Tammy and Logan had a hard time deal­ing with the ter­ri­ble win­ter the coun­try expe­ri­enced last year. While our pipes didn't freeze and we always had run­ning water, we did have plenty of snow, which kept Dale home (and unpaid) from work for a day and me feel­ing a lit­tle trapped (I don't do well dri­ving on snow) some­times for weeks on end. It wasn't as bad as the year we had the ice storm, but it was pretty bad.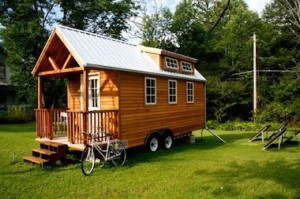 Ah, here I am again, blog­ging about the tiny/small house move­ment in an effort to try to explain it to some­one who obvi­ously will never get it.
I ran across an arti­cle yes­ter­day on Housing Wire, intel­li­gently enti­tled, "Nope, Tiny Houses are not the Next Big Thing: Sorry man – size mat­ters."
In the arti­cle, author Trey Garrison lam­basts jour­nal­ists for not being good with num­bers. He goes on with his argu­ment that the media cov­er­age on the tiny/small house move­ment is unwar­ranted because the sta­tis­tics show that homes are, in fact, get­ting bigger.
He then goes on by tak­ing barbs at tiny house dwellers as "a few hip­sters and other assorted folks who make bad decisions."