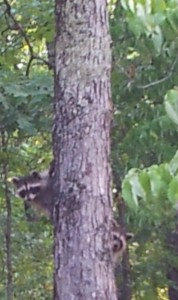 With cam­eras on most of our cell phones, it isn't very often that many of us don't have one available.
But why is it when I don't have a cam­era with me that a great photo oppor­tu­nity always comes up?
I had just placed a fresh bot­tle of home­made hum­ming­bird food out the other morn­ing and was stand­ing on the deck wait­ing for Dakota to do her busi­ness when one of the lit­tle bug­gers hov­ered and then landed on the feeder for at least two min­utes, not more than 3 feet away. Of course, I didn't even have my cell phone with me. Darn!
Photographing wildlife, lizards and cool insects is just one of the many rewards I've found of liv­ing in the country.
A cou­ple of weeks ago, I was star­tled by a really high pitched screech­ing sound. It was night and again, I was out with Dakota. We both scur­ried back in pretty fast and the next morn­ing, I asked my friends on social media what it could be.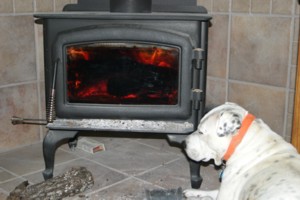 We're hav­ing our hottest weather of the sum­mer right now, so it is very coun­ter­in­tu­itive of me to write about wood stoves.
But the real­ity is that it will not stay hot or even warm for very much longer and we're start­ing to think about where we will source our wood and also get­ting the stove pipe cleaned out for the upcom­ing season.
Heating with a wood stove is a lot more work than turn­ing on the ther­mo­stat, but it pro­vides that deep warmth only a fire can pro­vide and also saves us money on our elec­tric bill dur­ing the win­ter months.
I was read­ing the Little Yellow Door blog and Ella's post about her tiny wood stove. Her Kimberly wood stove is beau­ti­ful and quite per­fect for a tiny house, but as she points out, it is quite expensive.
I have to put a word in for Regency. We pur­chased ours F1100 in 2003 and it is very small.
When we moved to Our Little House, we were very much city folks. In the city, we had ser­vices such as trash pick-up, city snow plow services.
If we needed some­thing, we made a trip to the store and made it back in 15 minutes.
We've learned a lot about coun­try life since we moved 50 min­utes from the near­est large town (in addi­tion to mak­ing cap­puc­ci­nos and iced cof­fee at home!)
Out here, it's just us. When there was a major ice storm that stranded us for 5 days and left us with­out power for 10, there was no one com­ing down our road to put salt and sand on it and we relied on each other out here to make sure we all had what we needed.
I've made a list of some of the equip­ment we've found we've needed out here in the coun­try. If you're think­ing of buy­ing or build­ing your lit­tle house out­side of town, these are some items you might want to consider:

At the begin­ning of our Summer of Fun, we pur­chased an ATV. Yes, I wanted one to ride on nice evenings, which helps me relieve stress, but it has prac­ti­cal pur­poses too (more on another post about equip­ment one might need in the country).
For one, I use it to go up and get our mail. The dig­i­tal mir­a­cle of direct deposit isn't always offered self-employed con­trac­tors and I do some­times receive paper checks. There are also days I am wait­ing for other pack­ages and such.
Our mail­box is two miles up the road and Dale typ­i­cally doesn't make it home before busi­nesses close that I might need to con­tact, espe­cially on the east coast.
Truly, I've always loved motor­ized recre­ational vehi­cles. My older cousin, Mark, who was always stay­ing with his dad, my uncle and my Aunt Kathy, dur­ing the sum­mers we vis­ited them in  rural Kentucky, always had a dirt bike or go-kart to ride.
My aunt, who now lives down the road from us, still tells the story of the time when I was about 10 and got on the go-kart and began riding.