I know that some of our Living Large's com­mu­nity also reads Tammy Strobel's blog over at Rowdy Kittens. I've been fol­low­ing her and Logan's adven­tures for years, before they even moved into their tiny on wheels three years ago.
Tammy shared some news on her blog this past week that they rented a small, 700-square foot bun­ga­low in town rather than live in their tiny home for the winter.
As I have for sev­eral years, I admire Tammy's hon­esty on her blog. I think some­times that tiny house liv­ing looks "picture-perfect, roman­tic and glam­orous," as she says, but as she points out, liv­ing a "sim­pler" lifestyle in a tiny isn't always that way. It has its good points and down­sides, just like liv­ing anywhere.
Like Dale and I, it sounds as though Tammy and Logan had a hard time deal­ing with the ter­ri­ble win­ter the coun­try expe­ri­enced last year. While our pipes didn't freeze and we always had run­ning water, we did have plenty of snow, which kept Dale home (and unpaid) from work for a day and me feel­ing a lit­tle trapped (I don't do well dri­ving on snow) some­times for weeks on end. It wasn't as bad as the year we had the ice storm, but it was pretty bad.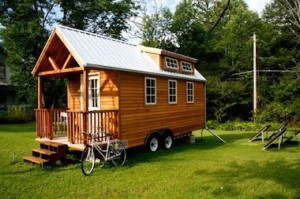 Ah, here I am again, blog­ging about the tiny/small house move­ment in an effort to try to explain it to some­one who obvi­ously will never get it.
I ran across an arti­cle yes­ter­day on Housing Wire, intel­li­gently enti­tled, "Nope, Tiny Houses are not the Next Big Thing: Sorry man – size mat­ters."
In the arti­cle, author Trey Garrison lam­basts jour­nal­ists for not being good with num­bers. He goes on with his argu­ment that the media cov­er­age on the tiny/small house move­ment is unwar­ranted because the sta­tis­tics show that homes are, in fact, get­ting bigger.
He then goes on by tak­ing barbs at tiny house dwellers as "a few hip­sters and other assorted folks who make bad decisions."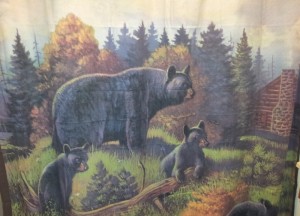 Cleaning the clut­ter from a home, garage, base­ment, attic or stor­age area has many ben­e­fits, includ­ing rid­ding our lives of the unnecessary.
Last week, I wrote about clean­ing out our clos­ets and the laundry/pantry area off our kitchen and just feel­ing like we had so much more space.
The other main ben­e­fit, of course, is find­ing things you don't even remem­ber you have.
Ha! Gotcha. No, we're not aban­don­ing small house liv­ing and didn't add on, but when com­pletely clean­ing out pantries and clos­ets, it does feel as though we've added space to Our Little House.
I am a ter­ri­ble orga­nizer and clean­ing is the last thing I like to do. I do rotate the clos­ets every sea­son so we have in-season clothes, but quite hon­estly, I don't think in the 17 years we lived in our other house, I ever actu­ally com­pletely cleaned out a closet until we moved. We had plenty of extra room and stor­age space, so we just kept adding to it.
That's why liv­ing in a lit­tle house is good for peo­ple like me. There aren't 2 extra bed­room clos­ets, a coun­try kitchen full of cab­i­net space and a huge stor­age closet under the stairs in which to pile what is mostly just unneeded crap.