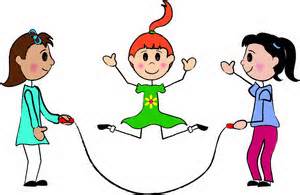 Hanging on the wall directly across from my desk in the Belle Writer's Studio is a framed copy of my first pub­lished article.
The essay, which was pub­lished in my home­town paper, The Kansas City Star, is about my child­hood and what a great place my neigh­bor­hood was for grow­ing up.
In my child­hood, the kids on my block rode bicy­cles, played spy games in the alley, played unor­ga­nized sports such as Red Rover, Hide-n-Seek and base­ball games in which we were in con­trol of enforc­ing the rules.
The only two admon­ish­ments from my mother was 1). Do not leave our block with­out ask­ing. 2). Either lis­ten for her to step out onto the porch and call me home for din­ner, or come back to the yard by the time the street light came on.
We were allowed to walk up to the store — an early cen­tury brick build­ing that was once the township's gen­eral store – for penny candy and a .25 cent (glass) bot­tle of pop. We jumped in mud pud­dles in the rain and had unsu­per­vised snow­ball fights in the snow.
It was a time when kids were allowed to be kids, we were given more respon­si­bil­ity if we learned to fol­low the rules, which taught us about inde­pen­dence. We learned to use our imag­i­na­tion and develop social skills with our friends. We solved prob­lems amongst ourselves.
It's those mem­o­ries that make me so sad every time I read a story such as the one about the par­ents in sub­ur­ban D.C. who are being put under the micro­scope for allow­ing their two chil­dren, ages 6 & 10 to (GASP!) walk to a park by them­selves and play.
Twice, these par­ents have been put under inves­ti­ga­tion by Child Protective Services. At least once, the chil­dren were held for hours before their par­ents were even noti­fied. The chil­dren sat alone in a police sta­tion with­out even being offered any­thing to eat at din­ner time.
BUT, you say, chil­dren are at risk, any­thing could hap­pen to them out there, right?
Actually, accord­ing to sta­tis­tics on crime and child­hood acci­dents, there has never been a safer time to be a child. Risks exists, just as they do through­out life.
But con­sider this: There is only a 1 in 1.5 mil­lion chance of your child being abducted. That is less than the risk of being stuck by light­ning, which is about 1 in 500,000!
Apparently, just as it has with the risk of a pit bull bite, the media has cre­ated a mass hys­te­ria that there is a boogey man behind every streetlight.
What does this have to do with tiny/small house living?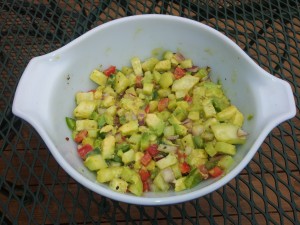 Sunday after­noons around Our Little House are all about the food, baby. When we lived in the city, you could usu­ally find us on Sunday evening gorg­ing at our favorite local Mexican diner.
Since mov­ing to Our Little House, we use Sunday as a day of R&R. We don't like to go any­where because Dale has to drive every other day of the week and dri­ving into town even gets exhaust­ing for him.
So, in the win­ter, we cook up some com­fort food.
In the sum­mer, after a typ­i­cal Sunday morn­ing of boat­ing, it's all about the grill.
It's been two years now (I do not know where the time goes) since I went on a mainly plant based (vegan) diet.
When I began writ­ing about the Tiny House Movement for my upcom­ing book, my edi­tor took excep­tion with the word "movement."
She thought it sounded like it had some sort of polit­i­cal con­no­ta­tion. The tech­ni­cal def­i­n­i­tion of a move­ment is, "a group of peo­ple work­ing together to advance their shared polit­i­cal, social, or artis­tic ideas."
I under­stood her con­cerns, but it is a type of social move­ment to what we think is a bet­ter way of life.
I responded to her con­cerns by telling her it had been labeled a "move­ment" by the media for so long, that if we didn't refer it to that in the book, it might con­fuse peo­ple that this is some­thing else other than what arti­cles, books and tele­vi­sion shows such as "Tiny House Nation" were talk­ing about.
However, last week, on the Living Large Facebook page, Matt also took excep­tion to the term move­ment, say­ing that after he's fol­lowed it for 5 years, he feels "the term is now out­dated and makes it sound hairy fairy and not a credit to mak­ing a change to the way we choose to live…"
What do you think, Living Largers? Is it a move­ment? If not, or you think the term is overused/outdated, what would you call it? Click on "the com­ment link above the photo (below the headline) to join in on the conversation!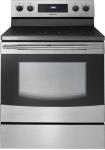 The past few morn­ings have been chilly, not cold enough to war­rant our wood stove and def­i­nitely not cold enough to war­rant turn­ing on our expen­sive elec­tric heater.
My mom came from a gen­er­a­tion where the focal point of the home was the kitchen. If she wasn't watch­ing tele­vi­sion (which she rarely did) or not cre­at­ing a piece of art or work­ing in her gar­dens, she was sit­ting in the kitchen, usu­ally with a cig­a­rette and a cup of coffee.
On morn­ings such as the one we've been hav­ing, she would say, "I'm turn­ing on the oven for a bit, just to take the chill off."
In a small home where the kitchen is often­times part of the liv­ing area, a few min­utes with an open oven door on a chilly morn­ing is all I need.
I turned on the oven yes­ter­day morn­ing just to take the chill off and though I don't smoke, I sat and enjoyed my cof­fee, silently thank­ing my mom for the warmth on a chilly morning.