On a recent episode of the show, Tiny House Nation, the design­ers had a sign inscribed with the owner's life motto. When I saw the episode, I real­ized just how many signs we have in Our Little House and in The Belle Writer's Studio.
Signs in the stu­dio such as, "What hap­pens in the cabin, stays in the cabin," "Welcome to the woods" (with a pic­ture of an out­house hung in the bath­room) and a sign that points in the direc­tion of the lake.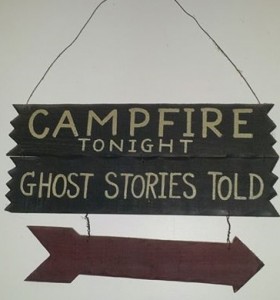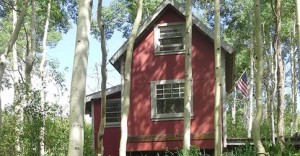 I've been a busy bee. I'm actu­ally now writ­ing a col­umn on liv­ing in small spaces for Parade​.com. I thought that the best way to launch it would be to fea­ture Living Larger Kent Griswold, founder of the Tiny House Blog, one of the old­est blogs on small spaces.  I will be back blog­ging here next week!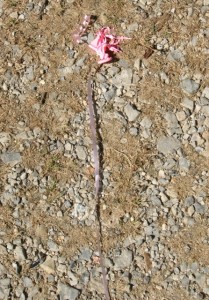 Dear Litterbugs,
Do you really believe that toss­ing your trash out of your car win­dow into the brush of our coun­try road hides it?
It might be out of sight and out of mind for you, but it isn't for us.
Sometimes it isn't hard to find at all, like the bal­loons you release in town that land in the mid­dle of the road. Unless, of course, a bird or other wildlife finds it first and either chokes because it tried to eat it or gets itself tan­gled in the col­or­ful strings. Believe me when I say when you release these in memo­riam of some­one, they don't end up in heaven, but they do help spoil par­adise when they return to earth.
Did you know helium bal­loons can even cause house fires? There was one in Lodi, Calif. not too long ago.
And what about you, the incon­sid­er­ate smoker who tosses out butts onto the ground: Have you never seen the heart­break­ing pho­tos of wild­fires? We would just as soon not lose Our Little House, our lives or that of our ani­mals because of your negligence.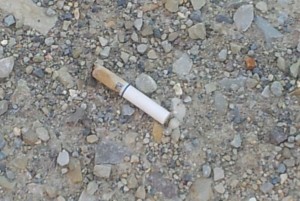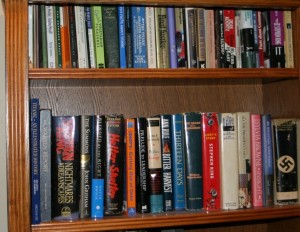 I'm cel­e­brat­ing the 5 year anniver­sary of the Living Large blog with an announcement!
The book based on our expe­ri­ences down­siz­ing to a small house, along with tips from me and other Living Largers is one step closer to reality.
My agent and I have agreed on a work­ing title, Living Large in our Little House: Thriving in 480-Square Feet with Six Dogs, a Husband and One Remote and How you Can, too.
The book will tell the story of how we came to live in Our Little House, but will also have never-before pub­lished sto­ries about our down­siz­ing, as well as sto­ries of oth­ers who have done the same.
It will be about Living Large by actual Living Largers!
The book will also give tips on how to com­plete your own Living Large dream!
How many of you would like to read this book and what tips would you like to see in it?