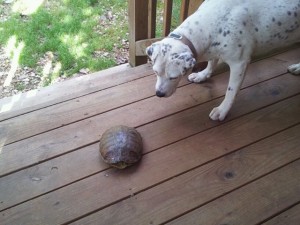 Today is World Turtle Day, so I think it's fit­ting that we were able to save a box tur­tle yesterday.
Dale called me yes­ter­day morn­ing and said, "I have a box tur­tle in a box."
Ok, I'll bite. "Why would you have a box tur­tle in a box?"
"He was in our bath­room, and I'm going to bring him home and let him go."
"In your bath­room at work? That's weird," I said.
"Better than the skunk they found in there a few years ago," he replied.
It was a fine idea to bring the tur­tle here, con­sid­er­ing that there are busy roads all around his job and not only that, he works with some really imma­ture and evi­dently cruel people.
Some of the other men at his work tossed a huge snap­ping tur­tle around a cou­ple of years ago until it died.
When I told a friend about this, she said, "Grown men?" Yes. Sadly.
You know the old song, "Working for the Weekend"? Operative word is for, not through.
I have never been the one to answer the call of house­work when there is some­thing else I could be doing, and this past week­end was no exception.
On Saturday, we did have to go and do gro­cery and bank errands early in the morn­ing, but we got side­tracked as well vis­it­ing a cou­ple of antique stores and pawn shops. We rarely buy any­thing, as we didn't on Saturday, but I still like to go "junking."
On Sunday, we had a zil­lion things we could have been doing around the house – spring clean­ing, fin­ish­ing the clothes rota­tion, laun­dry, yard work, installing the win­dow air unit…the list goes on.
I have a new the­ory: All I have to do to ensure one of our Six Pack gets hurt is start a big project.
Tuesday, I was rotat­ing the closet from win­ter to sum­mer clothes. It was unbear­ably hot that day; we hit record highs in the 90s, just two days after hit­ting record lows.
I heard Dale pull into the drive and Sade run off of the deck to greet him. She loves lying in the sun on the deck. About 5 min­utes later, he called for me to come outside.
I climbed over the moun­tain of clothes ready to be packed away and found him stand­ing with a shovel over a snake.
I finally got my con­tainer gar­den in this past week! It did get down into the high
30
s on Sunday morn­ing, but I'm hop­ing we're done with the threat of frost.
This will be the biggest gar­den I've ever tried with 4 dif­fer­ent types of toma­toes, 4 vari­eties of pep­pers, cucum­bers and cilantro (which was a huge fail last year).
I con­tainer gar­den due to the very rocky ter­rain and the dif­fi­culty in keep­ing gar­dens out of the paws of crit­ters.
We might just have to rename The Party Deck to The Plant Deck.
I'll be glad to not have to buy some of these things when my plants start pro­duc­ing. I'm grow­ing every­thing organic, which can get expen­sive at the store.
When I paid a visit to the doc­tor last week, we talked about our new health­ier lifestyle and how it was going. We got on the sub­ject of soda and diet soda and how bad they are for us. I told him we try to drink green tea, and he asked me if it was organic. I told him Dale had shopped for the tea and brought home conventional.
Tea, evi­dently, is one of the big no-nos to buy con­ven­tional (who knew?) as it has tested high in pes­ti­cide residue. Tea is not listed among the Dirty Dozen, but I trust my doc­tor, so we pur­chased organic green tea this week. It did get me to won­der­ing again about the "Dirty Dozen," so called by the Environmental Working Group for the foods that have tested the high­est in pes­ti­cide residue.
Because of the cost of organic, if I can get away with not buy­ing organic avo­ca­dos and bananas, I will (they rank #48 and #35 respec­tively on the list of hav­ing lesser pes­ti­cide residue).
I read this list a while back, but had also read some­where that if you can peel it, the food should be ok. Generally true, but not for pota­toes, which I've been buy­ing con­ven­tion­ally grown (#10 on the list, oops).
Here is the Dirty Dozen. For a list of all 48 tested foods, go to the link for EWG above:
Apples
Strawberries
Grapes
Celery
Peaches
Spinach
Sweet Bell Peppers
Nectarines
Cucumbers
Potatoes
Cherry Tomatoes
Hot Peppers
Keep in mind that this list tested for pes­ti­cide residue only and didn't take into con­sid­er­a­tion genet­i­cally mod­i­fied foods (GMOs). While corn is not on this list, we always buy organic to avoid buy­ing a GMO, as up to 80 per­cent of all corn pro­duced now is genet­i­cally modified.
Other foods they rec­om­mend you pur­chase organic are meat and dairy prod­ucts. If meat and dairy are not marked organic, the ani­mals could have been fed GMOs or been given hor­mones and antibiotics.
I bought 9 of the items on this list this past week and all but the pota­toes were organic.
What's your score?