If part of your week­end plans includes try­ing to fig­ure out what to buy your friends and loved ones for the hol­i­days, you're not alone.
According to the National Retail Federation, an esti­mated 4 per­cent of shop­pers are wait­ing until the last two week­ends before Christmas to shop.
Like many peo­ple who've had a home for long time, there isn't much we need and many things we would like (such as won­der­ful Bucket List trips) are out of finan­cial range for peo­ple we know.
Shortly before my mother passed away, she began giv­ing us the ulti­mate gifts that were much more appre­ci­ated than any­thing she could have ever bought: Antiques and fam­ily heirlooms.
Sometimes, I think I love all of the dec­o­rat­ing and par­ties lead­ing up to Christmas more than I do the hol­i­day itself, espe­cially as I've got­ten older and we've lost so many we used to cel­e­brate with.
This past week­end was all about the tra­di­tions my hus­band and I have built dur­ing our 27 years of marriage.
When I was a kid, we put our décor up around my birth­day, towards the mid­dle of the month. I think that tra­di­tion was a holdover from my mother's German her­itage, as her fam­ily didn't dec­o­rate until the 24th. Our tree usu­ally came down on New Year's Day or the day I returned to school.
Dale's fam­ily, on the other hand, always dec­o­rated Thanksgiving week­end. His step-mom was typ­i­cally ready to take down her tree the moment we left their house on Christmas Day.
I have friends who love the hol­i­days but don't dec­o­rate their homes because they say their houses are too small and there isn't enough room.
If we can dec­o­rate for the hol­i­days in 480-square feet, then you can too. The trick is not mak­ing it look over­done or cluttered.
Here are some tips I've learned over the years: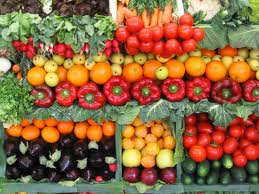 Our local nat­ural food store was stocked up on so much fresh pro­duce this week that I had to stop myself from shop­ping, it all looked so good.
When a neigh­bor asked what I bought, my hus­band inter­jected, "What didn't she buy!"
I've heard a lot of peo­ple talk­ing about how they wash their fresh pro­duce lately. I admit, I've been tempted to pur­chase some of those pre-mixed pro­duce washes in the gro­cery store, but is that really necessary?
I really didn't start think­ing about bac­te­ria on pro­duce until the out­break that involved can­taloupe a while back.
At that point, I started wash­ing every­thing before cut­ting into it, even if we didn't plan on eat­ing the skin.
But, am I get­ting every­thing really as clean as it needs to be?
I went to some trusted sources for the answers, includ­ing uni­ver­sity researchers and the FDA.